2017 Automatic Transfer Switch Price List
  This automatic transfer switch price list indicates prices for private people and EU-VAT registered companies. The prices for private people of this automatic transfer switch price list do include the 22% VAT. To get net price you are required to be 'NON EU RESIDENT' or you must provide a valid VAT exemption document. These panels  include the Be142 controller. This is the ideal choice for commercial applications, private application and hotels. For BTS & Telecom applications we recommend that you use panels with BEK3 automatic mains failure controller. You can purchase the automatic transfer switch and ancillary components as well. In this case if the automatic transfer switch price of an ATS panel is to expensive for your budget, you can reduce the cost of your system by doing the panel by your own. We recommend that you follow our application notes.
INVERSEUR DE SOURCE AUTOMATIQUE TRIPHASÉ SITE INTERNET LANGUE FRAN

Ç

AISE
These products are suitable for Light Industry applications, Residential Buildings and Antenna Towers in the range 15 up tp 130kVA. Software for remote control monitoring is free of charge. The electrical protection are fully adjustable on site.The ATS panel includes:
BATTERY CHARGER
BE28 ATS CONTROLLER
PROTECTION RELAYS
RS485 MODBUS INTERFACE
AUTOMATIC CHANGEOVER SWITCH
EMERGENCY PROTECTIONS
Model 100kVA/130kVA & 160kVA are not included in this automatic transfer switch price list. The price is subject to USD/EURO change. You can ask for an offer at anytime. 
60kVA ATS PANEL CASE STUDY, SCHEMATICS, SPECIFICATIONS AND MUCH MORE
KVA/A

NOMINAL

POWER

 EX WORKS PRICE

COMPANIES OR

NON-EU SUBJECTS

EX WORKS PRICE

PRIVATE PEOPLE

EU RESIDENT

TRANSPORT

EU/NON-EU

(EURO)

DIMENSIONS

H x W x D  

(mm)

WEIGHT

NET

(kg)

15/30

399,00€

486.78€

88€/180€

500x400x200

30

25/45

429,00€

523.38€

88€/180€

500x400x200

32

40/70

539,00€

657.58€

88€/180€

700x500x250

33

60/100

649,00€

791.78€

88€/180€

700x500x250

35

80/125

749,00€

913.78€

88€/180€

800x600x300

43
PURCHASE AN AUTOMATIC TRANSFER SWITCH ON-LINE
 HERE YOU FIND THE AUTOMATIC TRANSFER SWITCH PRICE FOR COMPANIES REGISTERED IN EU OR  FOR PEOPLE & COMPANIES NOT RESIDENT IN EU
AVERAGE DELIVERY TIME 10 WORKING DAYS.
YOU CAN PAY 50% ON ORDER AND 50% BEFORE DESPATCHING THE GOODS (CONTACT US)
DISCOUNT FOR 5-10-25 BULK OEM ORDER e-mail to SUPPORT@BERNINI-DESIGN.COM
(*) Prices do not include VAT when applicable. If you are a private person and the final destination of the panel is within the European community we have to charge 22%VAT. In case you are a 'COMPANY' with a valid VAT registration number we are not entitled to charge VAT. The prices do not include the freight.  
BE142-15KVA 
EX WORKS
299€
400X300X200mm 27KG
3Ph.+N Ith=30Amp.
BE142-25KVA
EX WORKS
329€
400X300X200mm 30KG
3Ph.+N Ith=45Amp.
BE142-40KVA
EX WORKS
439€
700X500X250mm 35KG
3Ph.+N Ith=70Amp.
ATS control panes are equipped with Be28 Automatic Transfer Switch Controller
BE142-60KVA
EX WORKS
549€
700X500X250mm 37KG
3Ph.+N Ith=100Amp.
BE142-80KVA
EX WORKS
649€
800X600X300mm 43KG
3Ph.+N Ith=125Amp.
EU FREIGHT 88€
FULL INSURANCE
INTERNATIONAL 180€
FULL INSURANCE
GSM BASED TRANSFER SWITCH REMOTE CONTROL
 ADD THIS SIMPLE PLUG-AND-PLAY MODULE TO REMOTELY CONTROL YOUR BACK UP GENERATOR
 PURCHASE ON-LINE FREE SHIPPING
129€
IT WORKS WITH ALL AUTOMATIC TRANSFER SWITCHES BE142
A good manufactured Automatic Transfer Switch panel, anyway must provide manual operation in case of problem of the electronic controller. As well as transferring the load to the backup generator, the Automatic Transfer Switch panel must also command the backup generator to start and stop, based on the electrical parameters monitored on the primary supply (eg. the public power utility). 
Automatic Transfer Switch Panel
An Automatic Transfer Switch Panel (ATS-panel) must be installed along with a backup generator. The generator will provide temporary electrical power if the power utility fails. It is about a panel that integrates a transfer switch, an electronic ATS controller, terminal blocks, relays and miscellaneous electrical components. The electrical transfer switch switches a load between two sources: the generator and power utility. It will not allow the connection of the generator to power utility and vice versa. The typical size of an automatic transfer switch is in between 4 up to 150kVA. Over this power special devices and more complex electrical equipment are used. As a reference an 80KVA (400V rated) automatic transfer switch panel features dimensions of 700X40X250(mm). The weight is about 50Kg. A totally manually operated transfer switch requires an operator to transfer the load by throwing a switch. An automatic transfer swtich panel will make all operation automatically. 
BATTERY BACKUP SYSTEM FOR YOUR HOUSE
 When a backup generator is an impractical choice we recommend that you purchase a battery backup system.  Our team of enginners designed an affordable equipment that ensures electricity for several hours with an average load of about 600 up to 2000W.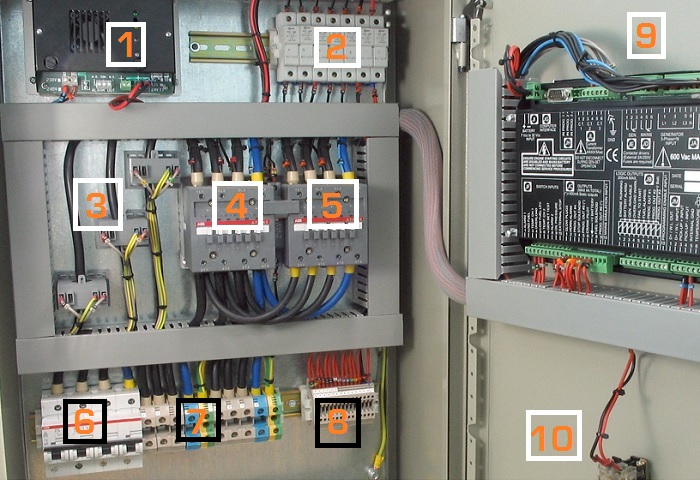 Automatic Transfer Switch Panel Internal View.
[1] BATTERY CHARGER   [2] PROTECTION FUSES  [3]  CURRENT TRANSFORMERS  [4] & [5] CIRCUIT BREAKERS  [6] MANUAL CIRCUIT BREAKER  [7] TERMINAL BLOCK  [8] INPUT-OUTPUTS CONNECTIONS  [9] ATS CONTROLLER  [10] EMERGENCY SWITCH.    
AUTOMATIC TRANSFER SWITCH PANEL WIRING DIAGRAM
An Automatic Transfer Switch Panel is a mandatory requirement for professional and state-of-art electrical systems where a generator is used. Also for a small house, that requires only 4KW, or requires a portable generator, we vividly recommend that you use an Automatic Transfer Panel.
Make Your Own Automatic Transfer Switch Panel
The Be28 is an high performance ATS controller that allows additional benefits:
- remote control monitoring via MODBUS, GSM or TCP-IP
- protection of the generator (by setting all kind of Over/Under Voltage & frequency)
- test mode of operation
- programmable Overload protection for the generator.
The following video clarify some important issues about Automatic Transfer Switch Panel.
Automatic Transfer Switch Price List Bernini Design 2017
 Bernini Design Srl Via San Romano Casetto 26A, 46035 Ostiglia Italy VAT: IT01453040204
email support@bernini-design.com   Tel 0039 335 7077148   24/7/365 support 0040 721241361