MAKE YOUR OWN GENERATOR CONTROL PANELS

USING OUR GUIDELINES YOU CAN MAKE COST-EFFECTIVE ATS PANELS
---
WHAT IS AN AUTOMATIC TRANSFER SWITCH?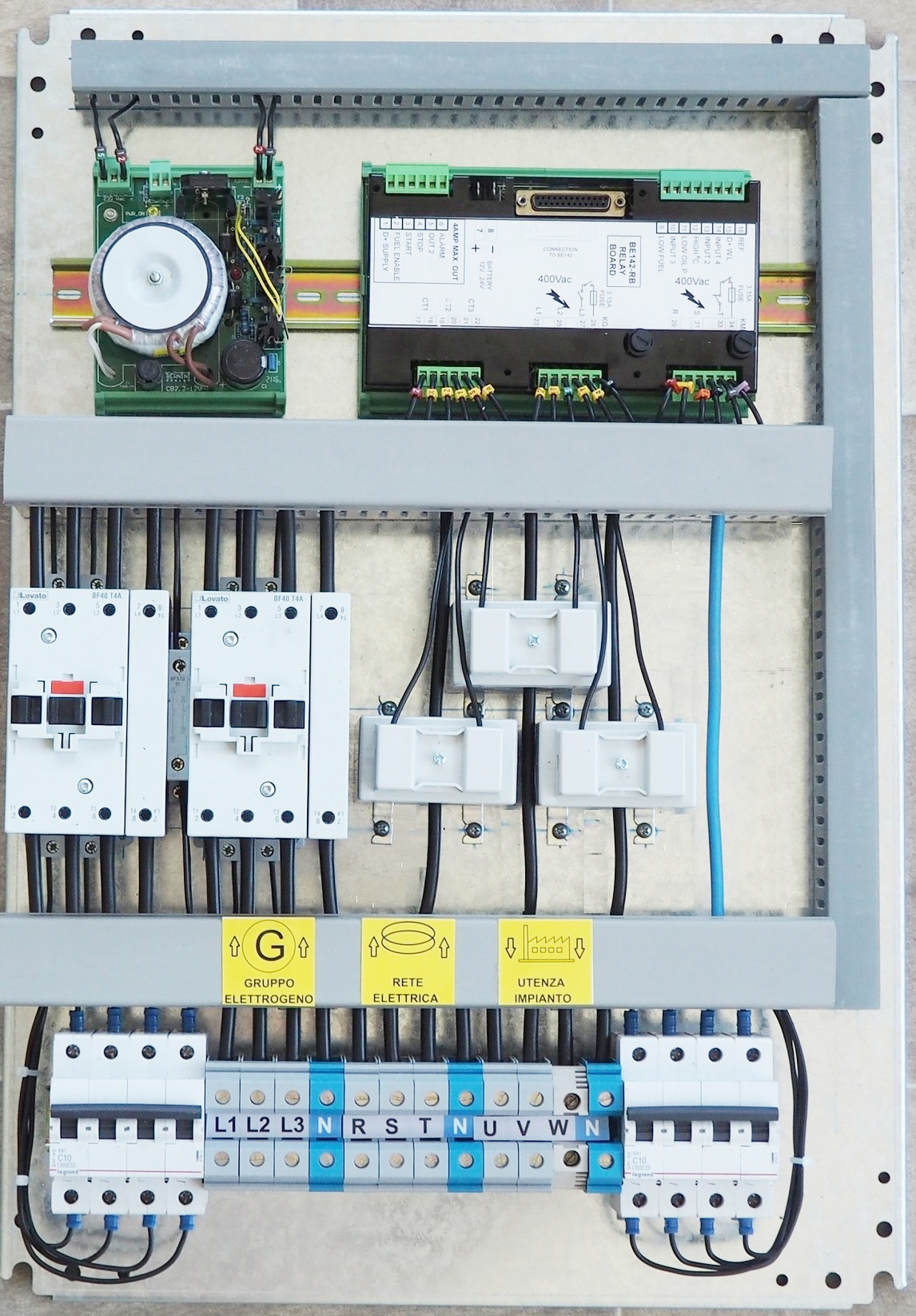 This accomplishes an automatic switch of the LOAD in case of a power outage. The ATS controller is the module that governs the Automatic Transfer Switch.
---
USE THE BE242 TO CUT 50% OF THE COSTS
---
1) USE THE BE242 ATS CONTROLLER TO SAVE 20 METERS OF CABLE
2) THE BE242 ATS CONTROLLER NEEDS A ROUND CUT-OUT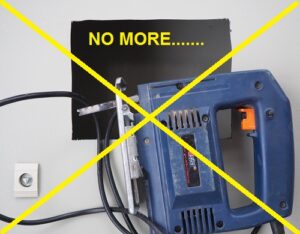 3) MAKE A CIRCULAR 57mm (2 1/4") HOLE USING A SAW DRILL BIT CUTTER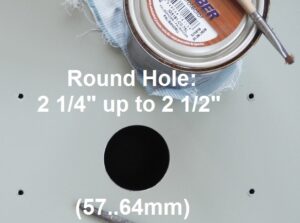 4) THE BE242 ATS CONTROLLER DOES NOT NEED ADDITIONAL COMPONENTS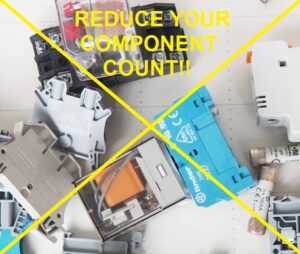 ---
We design the future generation of ATS controllers. We take care to provide state-of-art solutions for our valuable customers. Firstly, the ATS controller allows you to make advanced state-of-art Automatic Generator Panels saving connections, wires, components, and labor hours. Secondly, by installing the controller on the door front you are required to cut out a round area similar to panel instruments. Thirdly, the Be242  contains all electronic circuits in a compact 20mm thin enclosure.
---
DO  YOU WANT TO PURCHASE A 'READY FOR USE' UNIVERSAL ATS AMF PANELS? SEE OUR OFFER. WE CAN SUPPLY SYSTEMS WITH REMOTE MONITORING GSM, TCP/IP & MODBUS 15KVA UP TO 160KVA.
---
DO YOU WANT TO MAKE YOUR OWN ATS PANEL?
INVEST IN YOURSELF
LEARN HOW TO MAKE ATS PANELS
PURCHASE THE
PDF E-BOOK
4.99€
---
An old-fashioned ATS controller needs as many as 50 meters of cables and as many as 100 connections to the terminal blocks of the controller and to the terminal block of the panel not to mention relays and accessories. So, we introduced a new concept.  The BE242 Automatic Transfer Switch controller is made of two boards. As a result, you no longer need to place tens of cables up to the panel door. Finally, the user interfaces part of the ATS controller is fitted on the front door of the panel. Additionally, on the panel backplane, you are required to install, on a suitable rail, the BE242RB relay board that interfaces with the generator, engine, and utility power via short wires.
THE SLIMMEST ATS CONTROLLER OF THE WORLD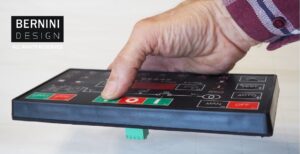 The ATS controller reads voltages and currents of the Mains & Generator via the interface board BE242RB.  You are no longer required to connect intermediary terminal blocks and wires.
You will connect the generator & engine directly to the interface module. The internal board BE242RB (it stands for RELAY BOARD) directly interfaces with the generator and mains via short wires.
You are no longer required to wire connections up to the rear door panel. The BE242RB board includes auxiliary relays and short-circuit-proof components. In order to make a professional Automatic Transfer Switch panel, you only require a metal or plastic cabinet, battery charger, current transformers, and contactors. By using the configurable INPUT-OUTPUT options you can choose the best solution for you.
BE242 KIT PRICE
(CONTROLLER+RELAY BOARD)
 199.00€
FREE SHIPPING WORLDWIDE
---
SUPPORT (GMT+1) +40 721 241 361 
---
2 SET OFFER
 169.00€ / each
---
FREE SHIPPING
5-YEAR WARRANTY
---
ASK OFFER FOR 10-25-50 BULK ORDER
---
Despite its square shape, the ATS controller requires a round hole. You can make a round hole ranging from 56mm up to 70mm. We recommend that you make also 4 small holes required to get the IP62 ingress protection. This operation will take only 5 minutes of work. Forget about cutting a big square hole that requires special metal cutting tools. You can use a simple circular cutting drill. The following footprint will help you position the drill. It includes the optional hole suitable for EMERGENCY SWITCH.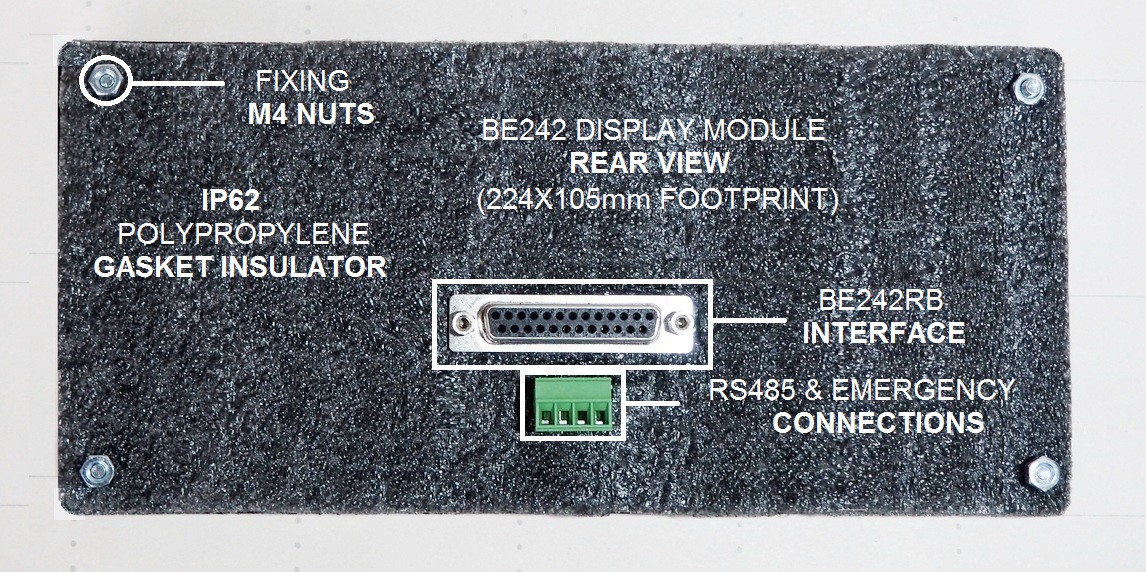 SETTING UP THE ATS CONTROLLER
The ATS controller features a user-friendly interface. The installation manual presents a clear alphabetic list of all settings. Consequently, the ATS control setup requires a few seconds only. As a matter of fact, the ATS controller is delivered ready for use especially if you have a 400V 3-phase system. In case of doubts, you can call our 24-7-365 support desk +39 335 70 77 148. As an option, you can restore the factory settings in a matter of seconds. Normally you may need to set up the ATS controller in particular applications or when you have to arrange special wirings. To summarize, the ATS controller features over 100 parameters and settings. In conclusion, this will allow you extraordinary flexibility of use. You can arrange a dual-set configuration or dual-load configuration.
This is the recommended wiring diagram. Click on the image to open a STEP-BY-STEP training video. Firstly, you will see the simplest way to build a generator control panel saving time and money. Basically, you will make all connections on a single backplane. You will connect the backplane to the ATS controller via a special cable supplied in the BE242 KIT. The system is flexible and adjustable.  In other words, you can directly connect an engine or other controllers like auto-start modules.
The BE242 ATS controller accepts single or tri-phase ALTERNATING voltage connected to utility power and generator. As a result, you can handle mixed configurations single-phase or tri-phase for generator and utility power. Most importantly, the relay outputs are short circuit proof. Consequently, the BE242RB directly controls and drives the coils of the contactors via protection fuses. You can supply the Be242 ATS controller up to 33VDC in a fully operating range of -25 up to +70 degrees Celsius. Additionally, the adjustable settings of the BE242 controller cover your protection settings up to a 2000kVA generator.
ATS CONTROLLER SPECIFICATIONS
DC Supply: 5.5/36Vdc, 50/150mA
Protection: 300mA thermal fuse
Dimensions:: 192 X 144 X 200 (mm)
Panel Cut-out: Round 56mm up to 70mm
Operating temperature: -25 deg C up to +70 deg C
Humidity range: 5% up to 95%
Weight: 230 grams
Meets ECC 89/336, 89/392, 73/23, 93/68, IEC 68-2-6
Certification: CE
Display: 4 digits red color
LED Indicators: 5 nos Yellow & 8 nos Green
Pushbuttons: 12 Membrane 100.000 actions life
Over  70 programmable adjustable settings
THE BE242RB RELAY BOARD INTERFACE
Supply Voltage: 5.5-36Vdc, 50-150mA
Protection: internal 4A thermal fuse
Dimensions: 200 X 140 X 70 (mm)
Installation: DIN-RAIL clips, IP62
Temperature: -25 deg C up to +70 deg C.
 Humidity: 5% up to 95%
Weight: 500 grams
Metts ECC 89/336, 89/392, 73/23, 93/68.
Certification: CE
DC Relay Outputs: 1A 30VDC.
AC Relay Outputs: 5A 250V  AC
Output Fuses: 3,15A Quick Action
Connectors: removable terminal blocks
Operating Vac: 500Vac
Overvoltage Voltage : 4KVac
CTs : 5Aac nominal, 8Aac 1 minutes
USER-FRIENDLY ATS CONTROLLER
KEEP-IT-SIMPLE is our master KEYWORD. We designed this ATS controller in a way to is intuitive and simple to use. Normally end-user has no knowledge about electrical items. For this reason, we put on the front panel only the necessary components. We use solid-state lamps and a simple 4 digit display. This ATS controller will last for over 25 years under continuous supply. The current for the lamp is chosen for the longest lifetime. In the following example, we show the basic conditions: LOAD connected to UTILITY POWER and LOAD connected to a STANDBY GENERATOR.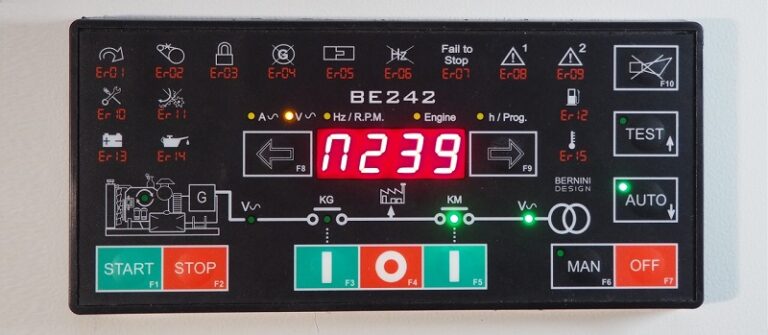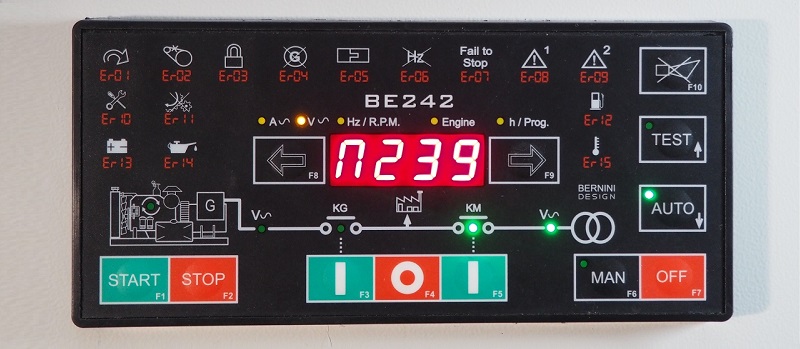 Directly push a button to select the MODE of operation. The LED indicator will immediately confirm the operation. To shut down the controller, push the OFF button. According to the setting of the PARAMETER NFPA-110, the BE242 ATS controller will transfer the load to MAINS even if the MAINS is not within the settings. In the OFF mode of operation, you are allowed to program the controller.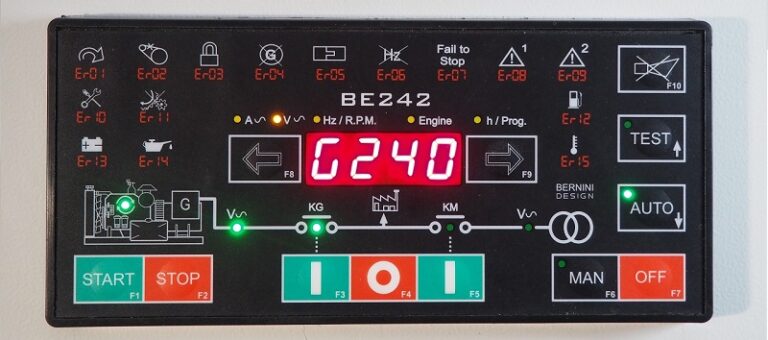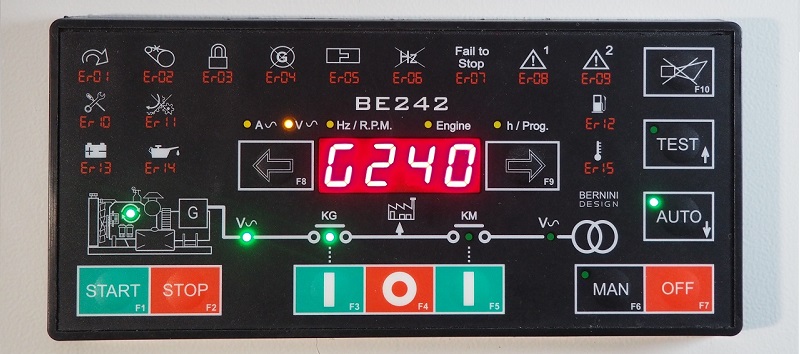 In the MANUAL MODE of operation, you can start & stop the engine, you can manually control the contactors or the transfer switch. When in AUTO MODE, the manual commands are disabled and the ATS controller will perform all tasks based on your automation settings. If DC power fails, the ATS controller will restart all sequences. As a matter of fact, it uses a NON-VOLATILE area of the memory to store the tasks before DC power down. All adjustable parameters are stored in a redundant way if separated memories. In case of a high level of noise, or software crash,  the microcontroller will be able to recover in the correct way stored data.
---
LOOKING FOR THE BEST GENERATOR KEY START WITH EMBEDDED AUTO START FUNCTIONS?
DOES NOT MATTER IF YOU ARE AT THE NORTH POLE OR IN THE MIDDLE OF THE DESERT
---
LOOKING FOR 3-PHASE  GENERATOR CONTROLLER DOWN TO 50USD?
TRY TODAY OUR
Zona Industriale,
46035 Ostiglia Italy

  24/7/365 support 0040 721241361