ONE SAMPLE
EU FREE SHIPPING
949€
Be126
Diesel Engine Driven  Fire Pump Controller
Bernini Design is specialized in manufacturing of NFPA20 & UNI 12845 compliant controllers. The main product is BE126 that is a combined automatic and manual diesel engine fire fighting system controller.
Be126 Fire Fighting System Controller Key Features
 Bernini Design is specialized in design and manufacture of diesel engine fire fighting system controller NFPA20 compliant
DISPLAYS VOLTAGE & CURRENT OF THE TWO BATTERIES
FIVE INDEPENDENT DISPLAYS LEDs+ GRAPHIC 128x64
ORGANIC GRAPHIC DISPLAY WORKING -30°C UP TO +70°C
MONITORS POWER UTILITY V-HZ-SEQUENCE & OTHERS
BATTERY, PUMP, MAINS & ENGINE INSTRUMENTS
GSM ALARM CONDITION ALERTS WITH TIME STAMP
16 SUPER-BRIGHT LEDs INDICATORS, 13 PUSH BUTTONS
60 CONFIGURABLE WARNING & ALARMS
MANUAL, OFF, AUTO, TEST MODE OF OPERATION
WORKS WITH 12V OR 24V BATTERY SYSTEM
OVER 150 ADJUSTABLE SETTINGS &

PARAMETERS
EXTREMELY STRONG & INSENSITIVE TO VIBRATIONS
MULTI PROCESSOR PATENTED ARCHITECTURE BE124
REDUNDANT MEMORY SYSTEM WITH 200 LOG EVENTS
EMBEDDED WATER PRESSURE 30-DAY DATA LOGGER
ACCEPTS DIGITAL AND ANALOG PRESSURE TRANSMITTER
FEATURES RS485, RS232, CANbus (SAE J1939 COMPATIBLE)
CONFIGURABLE ANALOG INPUTS AND DIGITAL OUTPUTS
COMMUNICATES VIA GSM, GPRS, TCP-IP, SNMP, ETHERNET
ON-SITE TROUBLESHOOTING SOFTWARE & DIAGNOSIS
FULLY COMPLIES WITH NFPA20 & UNI-EN12845 (2015)
CAN BE CONFIGURED FOR NORMAL WATER PUMP STATION
There are leaders, and then there's everyone else. At Bernini Design  we take immense pride in driving the NFPA controller standards forward, focusing on efficiency, quality, and safety.
No one ever complained about our control panels
Zona Industriale - 46035 Ostiglia Italy

email bernini@bernini-design.com   
24-7-365 SUPPORT 0039 335 7077148
Diesel Pump Driven Fire Fighting System Controller Tutorial
 PUSH A BUTTON TO OPEN A TOPIC ABOUT BE126 NFPA20 UNI-EN12845 FIRE FIGHTING SYSTEM CONTROLLER
 Fire Fighting System Controller Connection
Fire Fighting System Controller Alarm Management System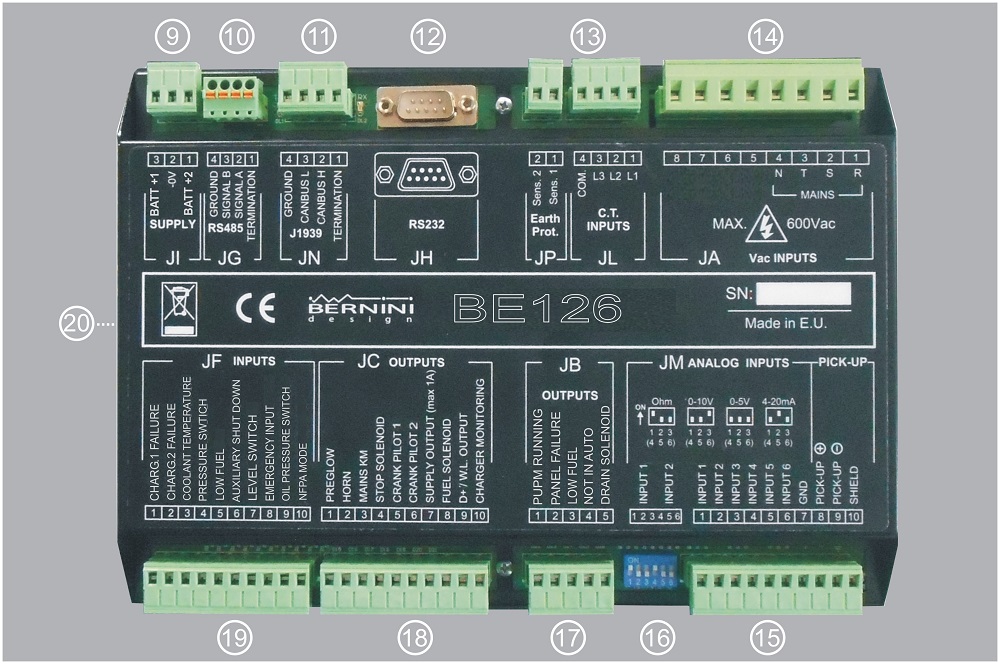 The BE126 is a multiprocessor automatic and manual diesel engine fire fighting system controller. It meets or exceed the requirements of NFPA 20 NFPA 20 & UNI 12845 standards. All Accessory devices, such as fire pump alarm and signaling means, are included into Be126 to  ensure maximum performance of the equipment that you are going to make using the Be126 diesel  engine fire pump controller. The Be126 fire fighting system controller is suitable for use in locations subject to  high degree of moisture, such as a damp basement or others. The Reliability of operation for this fire fighting system controller is not be adversely affected by dust accumulations, variation of temperature, humidity, fungus or adverse  elements. The BE126 is extremely strong and insensitive to vibrations. Basic structure is made of steel and carbon fiber. A NEMA Type 2 drip proof is provided  with an IP54 ingress protection.
MODBUS Based Fire Fighting System Controller Battery Chargers
TO COMPLY WITH NFPA20 THE CONTROLLER MUST DISPLAY VOLTAGE AND CURRENT OF EACH BATTERY. BY USING THE MCBXX BATTERY CHARGER, THE BE126 READS THE CHARGING CURRENT VIA RS485-MODBUS.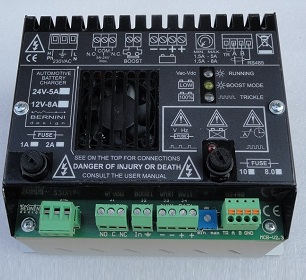 MCB Battery Charger User Manual
- MODBUS via RS485, Alarm Relay (dry contacts)
- Operating Temperature Range: -30/+70 deg. Celsius
- Current limited, it will only output the rated current
- Boost Mode push button, Current setting via Trimpot
The MCB family of automatic intelligent battery chargers are designed for industrial-automotive applications in harsh environments. Utilizing high performance components and corrosion-resistant anodized aluminium housing, it allows you to build a reliable control panel for standby generators. The MCB is a micro controller based, intelligent battery charger, ideal for NFPA110 & NFPA20 applications. The MCB complies fully with UL1236 and NFPA-20 regulations.
KEY FEATURES
- Microprocessor based, 4 LEDs indicators
- Removable connectors (M/F) & two fuses on the front
- Designed for over 20 years of continuous service
- Over-Voltage/Current, Over-Temperature protections
- Ideal for industrial AMF & ATS Genset panels
- Boost charge time out, fault Battery detection
- Complies with DIN41773, Reverse Battery Protection
ONE SAMPLE FREE SHIPPING
164€
TWO PIECES FREE SHIPPING
144€/each
Fire Fighting System Controller Miscellaneous Training Page Links Collection