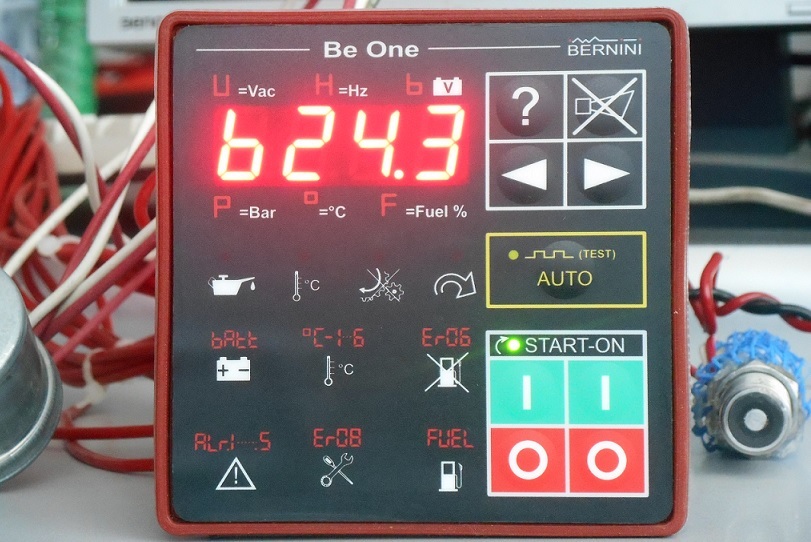 Generator Auto Start Timer
Be1  is a micro controller based,  Generator Auto Start that features 4-digit display, 6 LEDs indicators and provides Auto mode of operation. This Auto Start shuts down the engine in case of dangerous alarms about Engine or Generator. You can configure inputs and  outputs to adapt the controller to your application. The display indicates measurements, hours count and miscellaneous information. The Be1 genset controller features MODBUS via RS485. Software, free of charge, allows you to monitor the Engine, control the Alarms, open the Event History, program the Module and save the programming on a PC. A silicon gasket is provided in order to guarantee an IP65 grade of protection. You can set a timer to periodically test the engine. The Be1 features many adjustable timers in a way that you can use your generator in a wide range of applications.  PURCHASE THE AUTO START TIMER             Generator Auto Start Timer OEM Manual               Generator Auto Start Timer USER Manual 
Generator Auto Start Timer Front Panel
AUTO  mode
Push [AUTO] until the yellow LED on the button will illuminate. The engine starts when the 'Remote Start' input activates and stops when the 'Remote Start' input releases. In AUTO  mode, the Be1 will periodically test the engine if the timers [P.44] and [P.45] have been programmed. During this test, the yellow LED AUTO will continue to blink. To program an input for 'Remote Start' see 7.07B /option [12] of the OEM manual. To program a timer to start and stop the engine see  the table 7.00 (parameters [P 0] and [P 1] of the OEM manual). Once the Be1 is in AUTO  mode, push the  [AUTO] push button for a short time if you want to select the MANUAL mode of operation. In case of Alarms it is not possible to select the AUTO mode.
Generator Auto Start Timer Diagram
It is really easy to connect the Be1 module. Basic factory settings allow you to use the controller with any diesel engine. Factory settings provide inputs suited for digital sensor (e.g. pressure switch, temperature switch and so on). You can set the analog mode for the inputs and you are allowed to connect resistive sensors. It is important to use diodes in parallel to the output relays. In case a pickup is not available, the Be1 can calculate the rotational speed from the frequency of the main generator. The Be1 can drive up to 1000 meter long twisted pair cable required by the RS485 specifications.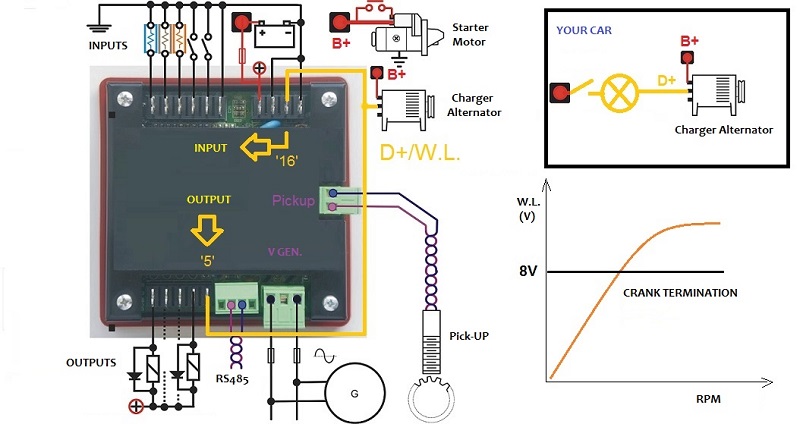 Generator Auto Start Timer Belt Alternator
The Be1 automatically terminates the crank when the engine starts running. Inside the Be1 there is a circuit similar to the one used in a normal car.  After turning on the key, the dashboard lamp turns on. As a matter of fact, when the engine is not running, the voltage of the terminal D+/WL of the charger alternator is 0V. As soon as the Be1 starts the engine, a voltage appears in the D+/WL terminal and when the engine runs normally, the voltage of the D+/WL terminal increases by up to 13-14 V (the lamp in the dashboard turns off). The safest point to disconnect the starter motor is between 6V to 10V (See the OEM Manual for all deatails about this matter).
Generator Auto Start Timer Modbus
By using a MODBUS-USB conveter you can connect a computer up to 1000m far away (we recommend that you use a shielded twisted cable). You can monitor and control your generator by running our free of charger software for Remote Control Monitoring BE1 V1.6. For more flexility you can use a TCP-IP server and connect the BE1 to Internet.
BE1 Generator Auto Start Timer BERNINI DESIGN
Bernini Design Srl Via San Romano Casetto 26A, 46035 Ostiglia Italia P.IVA: 01453040204 VAT: IT01453040204, Numero REA: MN160185
email support@bernini-design.com   Tel 0039 335 7077148   24/7/365 support 0040 721241361
https://bernini-design.it