BE2K-PLUS AMF ATS
GENERATOR CONTROLLER
DESIGNED FOR BTS SYSTEMS AND INDUSTRIAL STANDBY GENERATORS 
3-PHASE UP TO 1000Vac 
SUITABLE FOR CANBUS ENGINES
MULTIPROCESSOR ARCHITECTURE
 CONTROL & MONITORING
GSM, TCP-IP, MODBUS
OPERATES FROM -30 UP TO 85 DEG. CELSIUS
---
---
The Be2K-PLUS generator controller is a combined 3-phase AMF ATS &  Generator Control System. The parameters, the alarms, and operating functions are indicated by means of a high-performance 128X64 graphic display capable of operating between -30°C and +70°C. The front panel features super-bright solid-state indicators able to provide a view of the status of the controller in all climatic conditions. The Be2K-PLUS generator controller interfaces with resistive sensors, 4-20 mA /0-10 Transmitters, and a magnetic Pick-up (or 'W'). Measurements including Vac, Aac, Vdc, kVA, kVar, kW, Energy, Pf, Hz, hour count, R.p.m., Oil Pressure, Engine Temperature,  3 Auxiliary Temperatures, Telecom Battery Vdc, Battery Vdc (Engine), and Fuel Level.  The Be2K-PLUS is SAE-J1939 compatible and provides RS485 and RS232 interfaces.
The Be2k-Plus generator controller connects to the GSM modem and complies with NFPA-110 / NFPA-99 specifications. Connectivity to the Internet is provided through the Bernini Design TCP-IP Server. The genset controller Be2K-PLUS is designed for generating sets installed in antenna stations and telecom applications.
---
PURCHASE ONE SAMPLE
DELIVERY TIME 60DAYS 
FREE SHIPPING  VAT INCLUDED
799€
---
AS AN OPTION YOU CAN ORDER TO [email protected] AND PAY VIA BANK TT
---
REAR VIEW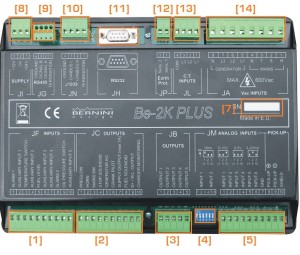 [1] CONFIGURABLE DIGITAL INPUTS     
[2] CONFIGURABLE DIGITAL OUTPUTS     
[3] CONFIGURABLE DIGITAL OUTPUTS     
[4] ANALOG INPUT SELECTION    
[5] CONFIGURABLE ANALOG INPUTS     
[6] ANALOG INPUT TRUE TABLE   
[7] SERIAL NUMBER   
[8] POWER SUPPLY PLUG     
[9] RS485 PORT     
[10] ISOLATED CANBUS PORT     
[11] RS232 PORT     
[12] EARTH FAULT SENSOR   
[13] CTs CONNECTION   
[14] MAINS & GENERATOR CONNECTIONS
 FRONT PANEL OVERVIEW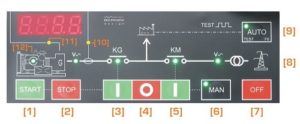 [1] MANUAL START  [2] MANUAL STOP BUTTON  [3] GENERATOR CIRCUIT BREAKER  [4] OPEN A CIRCUIT BREAKER  [5] MAINS CIRCUIT BREAKER  [6] MANUAL MODE  [7] OFF MODE  [8] MAINS STATUS PANEL  [9] AUTO MODE  [10] CURRENT MODE  [11] VOLTAGE MODE  [12] ENGINE RUNNING
 BASIC ENGINE ALARMS

Firstly the most critical alarms are directly indicated by high luminosity LED. Secondly, the Be2K-Plus manages, displays and records over 100 alarms together with vital information including date and time.
[1] LOW OIL PRESSURE  [2] ENGINE TEMPERATURE  [3] FUEL ALERT  [4] GENERATOR FAILURE  [5] RED LAMP ALARM  [6] AMBER LAMP ALARM  [7] ALARM SILENCE BUTTON
AMF CONTROL PANEL FOR DG SETS WIRING DIAGRAM
You can set parameters to start/stop the engine according to a combination of mains failure, battery auto start, and air conditioner. The concept is to run the generator only when necessary with the final goal of fuel economy. Be2K-Plus features separated and isolated RS485, RS232, and CANbus. You can connect the Be2k-Plus via TCP-IP and/or GSM. The specification of this controller is stunning. The Be2k-Plus includes, from a hardware point of view, 3 automotive-grade microcontrollers.
This is without of doubt the most compact and powerful AMF controller on the market today. It is designed for Telecom applications and is able to work in extreme climatic conditions of temperature and humidity. Each AMF control panel for the dg set includes an automatic battery charger and a set of electronic circuit boards complete with power relays that interface directly with the engine. The Be2K Plus AMF controller is conveniently tasked with driving the Circuit breakers of the Mains & Generator. Despite the fact that the power configuration and general arrangement are the same for all AMF panels equipped with Be2k Plus, the size of the circuit breakers and wire sizes depend on the required power rating of the panel and the requirements of the application.  
Ancillary devices are normally provided, for example, MODBUS & CANbus serial interface, remote control, monitoring systems, Modems, Internet connection, and so on. The Electric Panel body is manufactured of steel and coated with industrial-grade high-performance paint providing a full IP65 grade of protection. Using the Bernini Design AMF Control Panel For DG Set you move to the top of the Standby Technology.
Bernini Design started writing software for standby generators in 1984. In 30 years we introduced to the market 500,000 microcontroller-based AMF systems. Controllers made in 1984 are still working. This makes Bernini Design an absolute leader in AMF & ATS controller manufacturing.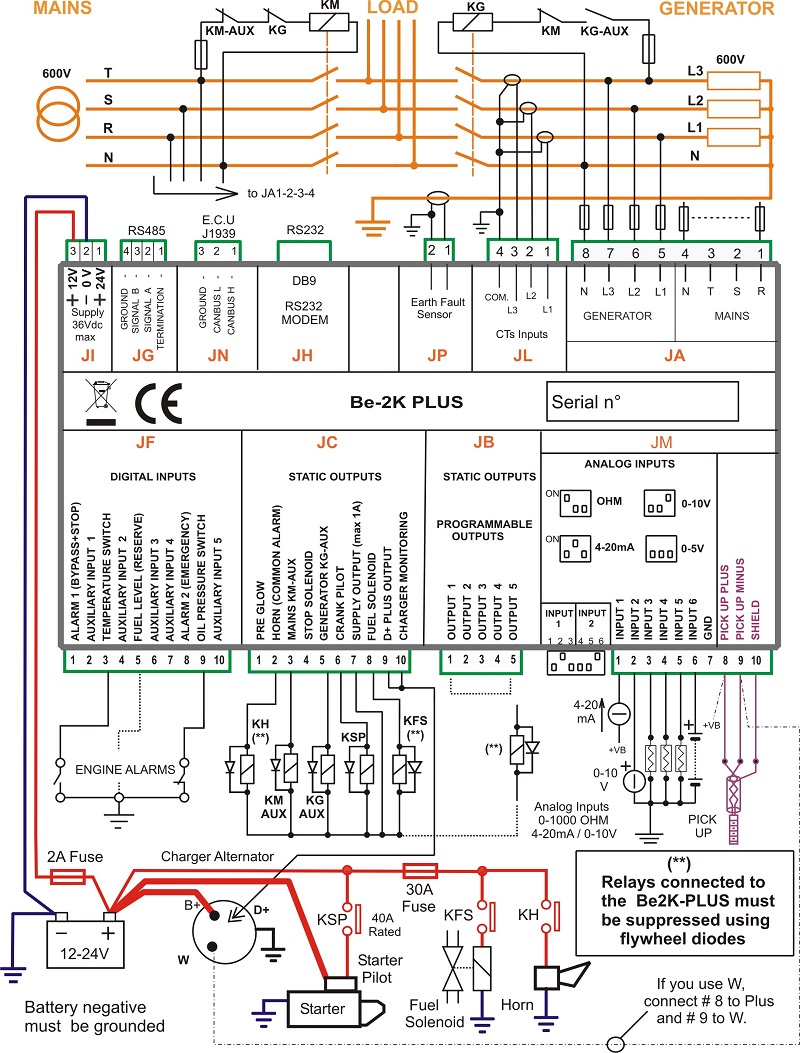 - Indicates kVA, kVAr, kW, PF, Aac, Vac, Hz, kWh-meter & h-meter
- Indicates all Engine parameters and monitors the Ambient Temperature
- 32 Options for each programmable input & 79 Options for each Output
- Earth fault monitoring and Reverse Power, controls motorized Switchgears
- High-quality manufacturing, 72-hour dynamic burn-in, 3-Year warranty
- Ideal for AMF ATS Dual-Genset standby applications for Industry & Telecom
- RS485, CAN-BUS J1939, RS232, TCP-IP protocol, interfaces with Modem
- 200 Events Log history tagged by a Real-Time Clock
- Monitoring of Vdc sources for Telecom & Renewable Energy Applications
- 12-digit Led-Display and 128x64 Graphic (-30°/+70°) OLED Display
---
Via San Romano Casetto 26A
46035 Ostiglia Italy
24/7/365 support 0040 721 241 361