How do I make an automatic transfer switch?
BY FOLLOWING OUR TUTORIAL, YOU WILL BE ABLE TO MAKE ANY TYPE OF AUTOMATIC TRANSFER SWITCH PANEL UP TO 1000KVA. YOU CAN INTERFACE THE PANEL WITH ALL KING OF DIESEL GENERATORS PROVIDING TO YOUR CUSTOMER WITH A COST-EFFECTIVE PRODUCT
YOU HAVE TWO BASIC CONFIGURATIONS
USING CONTACTOR CHANGEOVER OR MOTOR-DRIVEN TRANSFER SWITCHES
When it is about performances, the best solution is CONTACTOR CHANGEOVER. When it is about high power. the MOTOR-DRIVEN TRANSFER SWITCH is the winner. But, overall you need a really powerful, programmable ATS controller. When it is about cost-effective and time-saving products, the only choice is the BE242 controller.
THE DIFFERENCE BETWEEN AMF AND ATS CONTROLLERS
AMF means AUTOMATIC MAINS FAILURE (more often called AMF). It is about an Electric Module that automatically controls a Standby Generator. In other words, an AMF Panel is the proper choice in cases where you have to control a generator that is connected to the Mains in a standby configuration. The AMF panel fitted with an AMF controller manages, in a fully automatic way, the connection assignment of the LOAD to MAINS or GENERATOR.
---
DISCOVER THE BE242 ATS CONTROLLER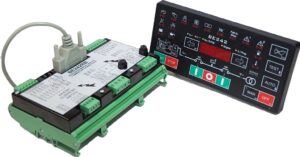 ---
The AMF controller in this case features all programmable parameters that will allow the AMF panel to detect a Mains Failure and a Mains Restore. Finally a small clarification about AMF & ATS (AUTOMATIC TRANSFER SWITCH) controllers. In a way, we can say that an ATS controller is similar to an AMF controller. The basic difference is that the AMF controller, once in AUTO mode of operation, provides global control of the engine and generator. ATS controller is more simple: it takes care to concentrate all logic on switching in a safe way the LOAD to MAINS or GENERATOR. The control panel is more simple because it does not include the monitoring of all parameters of the engine. We can say that an ATS controller is more 'ORIENTED & SPECIFIC TO MANAGE THE LOAD'. But, when using an ATS controller you have to make sure that your generator is well equipped with a reliable Auto Start Module. AMF controllers are usually wired together with contactors changeover. This provides uncomparable performances when it is about LOAD on-off control. A contactor can immediately react in case of short outages. A transfer switch needs the action of the electric motor-based actuator.
IS IT BETTER AMF OR ATS?
This question is no longer important. We offer the only, new, combined AMF ATS controller available on the market. The BE242 universal AMF ATS controller.
BERNINI DESIGN SRL
Zona Industriale,
46035 Ostiglia Italy

  24/7/365 support 0040 721241361