HOW TO CONNECT A GENERATOR TO YOUR HOUSE?
The safest way to connect a stationary backup generator or portable generator to your house is by using the CONECT ATS panel. 

A) The utility power is connected to your house via a circuit breaker [1]. When utility power fails, your house [3] is without electricity. B) The ATS panel [5] gives you the possibility to supply your house [3] by using a generator [4].
NOTE
1) The installation must be done by a professional licensed electrician.
Firstly, he will install the ATS panel in your home and connect it to the main breaker box. This keeps you safe and makes sure that your system remains up to code. Most importantly, this will help keep you from accidentally electrocuting someone else or even yourself.
2) If you are looking to install a stationary generator, with automatic start and stop, we recommend that you install the EVOLVE ATS panel.
---
FREQUENTLY ASKED QUESTIONS ABOUT ATS PANEL
How to connect a generator to your house without a transfer switch?
This is not possible. We recommend that you read the section
at the end of this page.
Can you plug a generator into a wall socket?
No, do not do it! Please, instead, follow the recommendations at the end of  this web page
How to install a generator for your house?
How to install a generator is not how to connect a generator. We can say, more correctly, that the connection of a generator to your house is part of the process included in the installation of a generator. You may "install" a portable generator or a stationary generator based on your budget.
How to correctly use a generator?
We agree that a generator is a user-friendly tool. But. after all, it is a complex and potentially dangerous apparatus 
---
THE "CONECT ATS PANEL" IS A COMBINED  MANUAL AND AUTOMATIC TRANSFER SWITCH SUITABLE FOR A PORTABLE OR STATIONARY GENERATOR
PURCHASE THE
32 Amp CONECT
ATS PANEL
349€
32A 230V 50Hz
DELIVERY TIME 10 DAYS AFTER PAYMENT CONFIRMATION FREE SHIPPING IN THE EU
 Especially, when you rent a generator for the duration of the power outage, you will be sure to return the generator in perfect condition. To be sure that your family stays safe and, in any situation, your insurance company cannot dispute your claim because of "faulty wiring", we recommend that you get your system very well inspected.
Although the CONECT ATS panel is mainly designed for portable generators, you can automatically start &  stop a standby generator (or a stationary/fixed generator If you will).

The CONECT ATS panel features digital enough inputs and relay outputs capable of interfacing with any kind of engine. You can remotely control the ATS panel by activating the REMOTE OFF or REMOTE START inputs. In case you connect a stationary generator, the CONECT panel features a fully electronically protected battery charger. This will keep your generator ready to start. Bernini Design supplies cables of suitable length in a way that you can easily interface with the most popular standby generators like HYUNDAI, PRAMAC, SMDO and many others.
---
NEED MORE POWER?
PURCHASE THE
63Amp BE242
INDUSTRIAL GRADE
BE242
ATS PANEL
699€
63A 230V 50Hz
DELIVERY TIME 30 DAYS AFTER PAYMENT CONFIRMATION FREE SHIPPING IN THE EU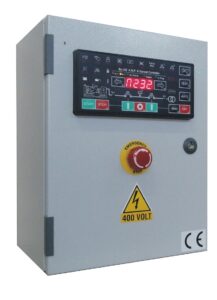 IT FEATURES A STEEL CABINET, IDEAL FOR HIGH-PERFORMANCE SOLAR SYSTEM APPLICATIONS WITH MORE THAN 50 ADJUSTABLE SETTINGS
---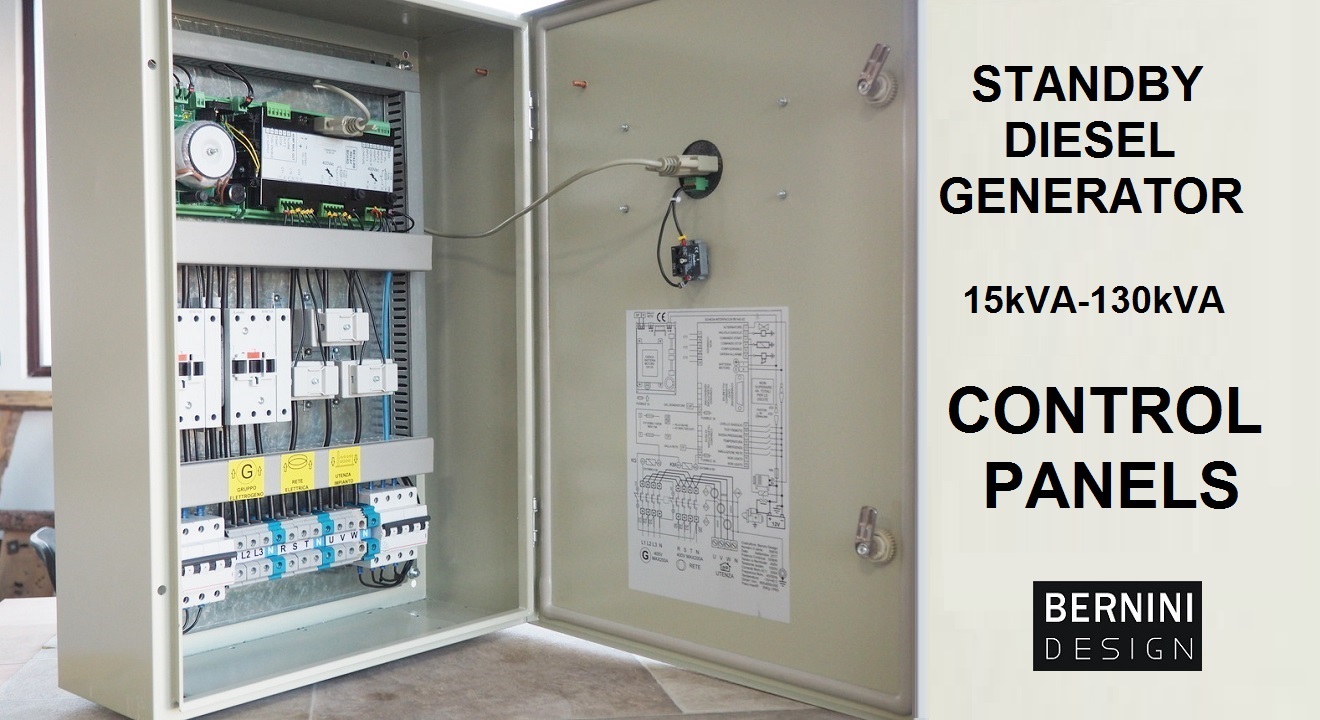 ---
NEED GSM MONITORING TOGETHER WITH INCOMPARABLE PERFORMANCES?
EVOLVE ATS PANEL
STATE-OF-ART UNIVERSAL ATS PANEL WITH OPTIONAL GSM-BASED REMOTE CONTROL MONITORING SUITABLE FOR STATIONARY GENERATORS
PURCHASE THE EVOLVE ATS PANEL
649€
32A 230V 50Hz
The EVOLVE ATS panel is the most advanced and technologically complete solution when you require full control of your standby generator and remote control monitoring via GSM. By using the embedded configurable relays you can directly control the start-stop solenoids, Pre glow, Fuel solenoids, and much more. Finally, by connecting analogue sensors you will be able to get engine instruments on the display. Consequently, you can easily transform an old generator into an automatic standby generator.
---
---
The EVOLVE ATS panel is mainly designed for stationary generators. It can not interface with portable generators unless you provide a DC voltage to supply the electronic circuits. This can be done by adding an additional backup 12V battery. This must be a good practice when you use the GSM monitoring option. In case the engine of the battery is down, and there is no utility power, you can supply the GSM modem using the auxiliary backup battery.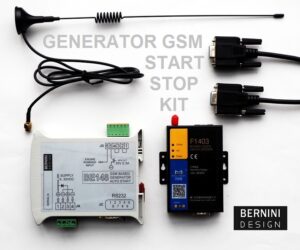 PURCHASE THE GSM OPTION
149€
2G-3G-4G-5G COMPATIBLE
 Install the EVOLVE control panel where you wish to fully control your electricity services. You will get excellent protection of the engine as well by correctly programming the protections.
---
---
The EVOLVE ATS panel makes power management very easy to do. You can turn on and off various circuits to accommodate changing power needs. This helps you use a smaller, less expensive generator to meet your power needs. It lets you use your generator more efficiently - with less effort on your part. You can increase the usefulness of your generator, making it behave like a model as much as 50% larger.
---
LOOKING FOR A STANDBY GENERATOR SUITABLE FOR YOUR HOUSE?

---
WHAT IS BACK FEEDING?
The direct connection of the generator to a circuit in your home. You feed power back into the utility system. You will energize the transformer serving your house creating conditions for an electrocution hazard.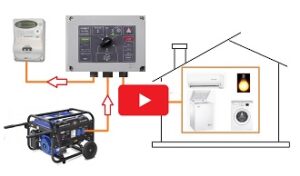 In a standby application, the generator must never be connected to the grid. Normally, you cannot legally bring an AC generator onto the grid unless some technical and legal conditions are met. To connect a generator to the grid, the sine wave must be in phase with the grid, the frequency must be the same and other requirements have to be strictly satisfied. This is accomplished by using special and complex controllers (regulators and synchronizers). Last but definitely not least the system must pass special inspections. More frequent is the use of the generator for standby application by using a standby generator or small backup generator. A standby generator is a permanently installed apparatus, much like a compressor. A backup generator is a small, sometimes gasoline portable, generator that you put in position outside the house, for example, and then plug into the control panel. Or it can be connected to electrical loads via heavy-duty extension cords.
Back-feeding is a dangerous situation in which, electricity from your generator flows back through your electrical panel into the utility company's electrical system. Back-feeding can occur when a generator is connected to your home wiring system without disconnecting from the utility power. This could occur if you directly connect a generator to a circuit in your home. If you feed power back into the utility system during an outage, you will energize the transformer serving your house.
In other words, you create favourable conditions for an electrocution hazard. Even worse, back-feed could electrocute any technicians who are working on the lines - causing injury or even death. Finally, when the utility company's power will be restored, your generator may be severely damaged, or there may be an electrical fire in your home.
To connect a generator to your electrical distribution panel we recommend that you use the CONECT panel; there is no way to make a connection GRID-GENERATOR. The circuit breakers inside the panel feature a mechanical and electrical interlock. The internal circuit breakers will never close simultaneously. The CONECT panel manages, in a fully automatic way, the connection assignment of the LOAD to UTILITY POWER or GENERATOR.
---
BERNINI DESIGN SRL
Zona Industriale
46035 Ostiglia Italy
 VAT IT01453040204
+39 335 7077148
---
EAST EUROPE FACTORY
BERNINI DESIGN SRL
Industriale Zone
700177 Iasi Romania
Calea Chisinalului 32A
VAT RO31228395
+40 721 241 361