What does a generator control unit do
A generator control unit integrates a 3-Phase Generator Control Module, a Circuit Breaker controllers,  a Belt Alternator Monitoring module, an Engine Control & Monitoring system and a serial Data Interface RS485. The Be124 controller provides clear visual indication by means of LEDs and Display for all supervised parameters and alarms. It features a range of programmable settings and is engineered to comply with international standards. A CANBUS interface communicates with engines equipped with ECU according to the SAE-1939 standard. 
In the image you can observe the  front panel of the Be124 generator control unit.
BE124 GENERATOR CONTROL UNIT TUTORIAL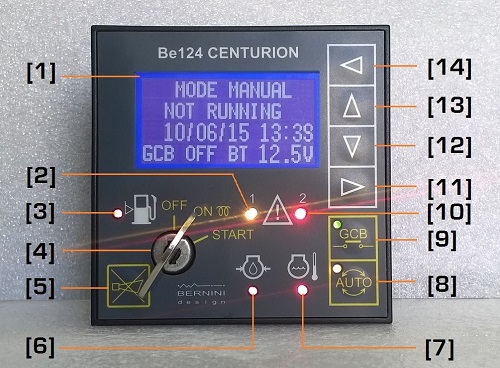 [1] GRAPHIC DISPLAY    [2] YELLOW LAMP (WARNING)    [3] RED LAM (FUEL ALARM)    [4] KEY SWITCH    [5] ALARM SILENCE    [6] OIL PRESSURE ALARM    [7] ENGINE TEMPERATURE ALARM    [8] AUTO MODE BUTTON    [9] GCB BUTTON    [10] ALARM SHUTDOWN    [11] .. [14] NAVIGATION BUTTONS