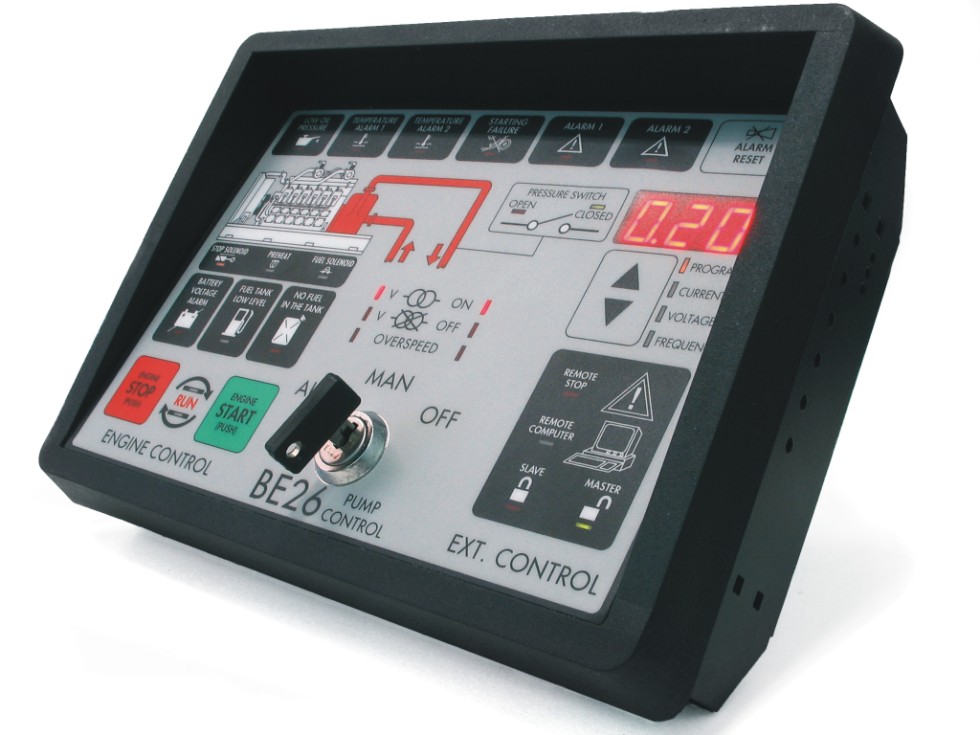 Be26 NFPA20 COMPLIANT
PURCHASE ONE PIECE
799€
Free Shipping
 The BE26 controller is suitable for diesel-engine driven pumps used in fire-fighting applications. The BE26A complies with NFPA-20 regulations. For new applications, we recommend that you use the most advanced
AUTO MODE OF OPERATION
The engine starts in 'AUTO' in case of low water pressure. A programmable delay is provided by an adjustable parameter. The BE26A initiates the start when the Pressure Switch opens. The engine will continue to run independently of the pressure switch status. In AUTO mode, it is possible to START the engine without delay by using a REMOTE TEST switch. The engine stops when the contact of the REMOTE TEST switch opens. The Pressure Switch has priority over a REMOTE TEST.
MANUAL MODE OF OPERATION
  To control the engine in manual, use the 'START' and 'STOP' pushbuttons. To select the MANUAL mode, turn the Key-Switch into MAN. In accordance with the NFPA-20 standard, it is not possible to remove the key in MANUAL mode. The STOP button is always disabled in NFPA-20 MODE. To stop the engine, turn the key to OFF  mode.
---
Zona Industriale,
46035 Ostiglia,  Italy

 24/7/365 support 0040 721241361