BE2K AMF CONTROLLER
AVIONIC-GRADE SOLID STATE DISPLAYS
SUITABLE FOR BE32 & BE2000 REPLACEMENT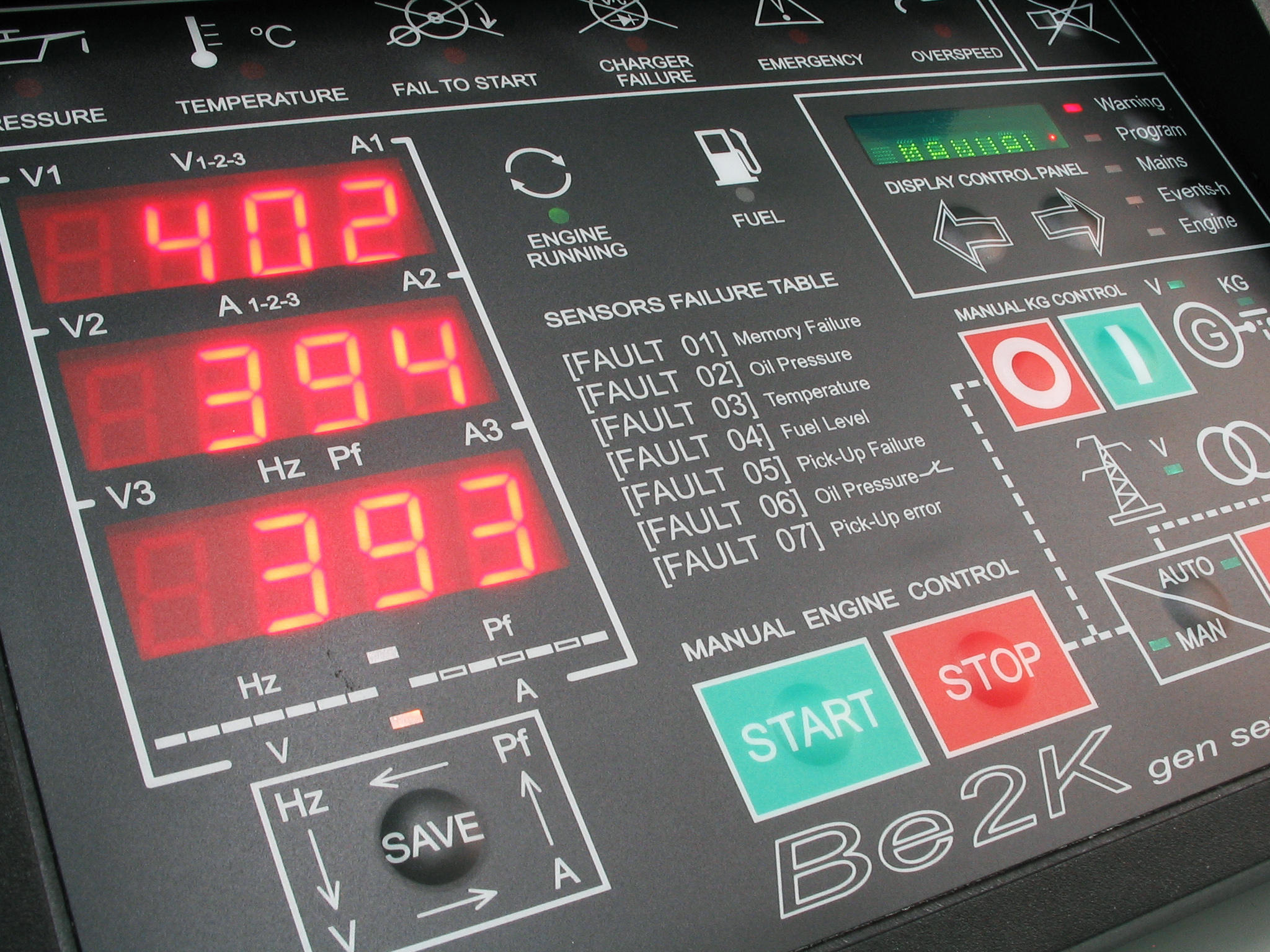 BE2K GENSET CONTROLLER DESCRIPTION
The Be2K is a 3-phase mains failure controller (AMF) and automatic transfer switch controller (ATS). Its programming runs quickly, and all parameters, alarms, and operating functions are indicated by means of a military-grade 8-digits display capable of operating in a temperature range between -55°C and +125°C. The Be2K interfaces with resistive sensors, 4-20 mA /0-10 Transmitters, and a magnetic Pick-up (or 'W'). Measurements including Vac, Aac, Vdc, kVA, kVar, kW, Energy, Pf, Hz, hour count, R.p.m., Oil Pressure, Engine Temperature, Auxiliary Temperatures (Ambient & Canopy), Battery Vdc (Telecom system), Battery Vdc (Engine) and Fuel Level. A remote monitoring and control software program is also provided. The Be2K provides an RS232 interface and complies with NFPA-110 / NFPA-99 specifications.
---
EL CONTROLADOR BE2K
El Be2K es un  controlador para red y para generador trifásicos y un sistema de monitorización. Presenta todos los parámetros necesarios para la automatización de un generador.  Se suministra una interfaz serie RS232 para control remoto y vía modem. El software entregado con el Be2K le permite programar, monitorizar y calibrar medidas.
Características principales del Be2K:
Potente haz de 30 líneas de entrada-salida / 60 parámetros programables y reloj interno /  Monitorización de red y generador trifásicos / Selección de modos de operación local o remota / 21 mensajes de funcionamiento y 60 mensajes de alarma / Registro de sucesos, planificación de programas de mantenimiento / Desconexión por tiempo excedido para aplicaciones de alquiler
---
Be2K Características del panel frontal:
Presión de aceite (BAR), Temperatura (ºC), % Combustible / Indicador de velocidad del motor y contador de horas /Todas las medidas pueden ser calibradas sobre el terreno
Be2K Otras características:
Corte en panel: 171x238, uso en interiores / intemperie  / Dimensiones/peso: 250x185x70 / 1700 gr. / Alimentación hasta 36Vcc, máximo 300mA.
Be2K manual del usuario en español
---
Purchase the Be2K genset controller

THE BE2K IS ELECTRICALLY COMPATIBLE WITH BE32 & BE2000 CONTROLLERS
699€ free shipping
The price does include VAT. If you are an "European Company" and the final destination of the Be2K is within the European community you can ask for 22%VAT deduction. To get 22% VAT exemption you are required to send us your VAT to [email protected]
---
Zona Industriale, 46035 Ostiglia Italy
0039 335 70 77 148