Be72 Engine Protection Module
Purchase One Sample BE72 119€ FREE SHIPPING

Purchase Two Pieces BE72 99€/Each FREE SHIPPING

BE72 Four Pieces Offer 64€/Each FREE SHIPPING

 Prices do not include VAT when applicable. If you are a private person and the final destination of the panel is within the European community we have to charge 22%VAT. In case you are a 'COMPANY' with a valid VAT registration number we are not entitled to charge VAT.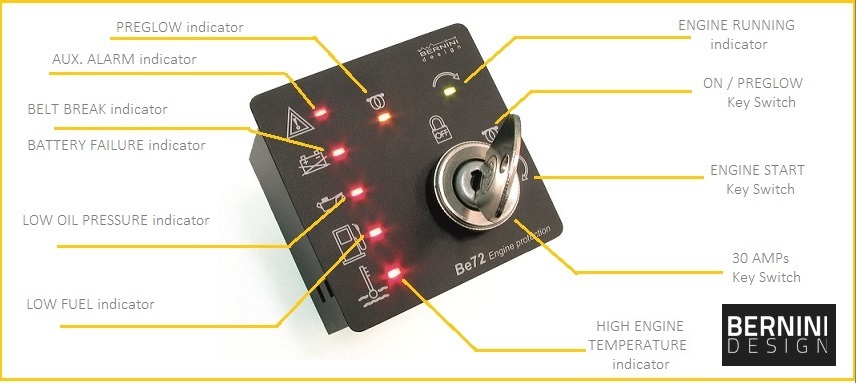 FRONT FASCIA
The Be72 provides Manual start for engine-driven applications. Automatic fault protections include: Engine low oil pressure, High Temperature, Emergency and Belt break. The Be72 provides the following outputs: Start, Stop, Preheat, Alarm and Fuel solenoid. Be72 features a power switch (30A current) to energize the starter. All functions are indicated by means of 7 LED  indicators.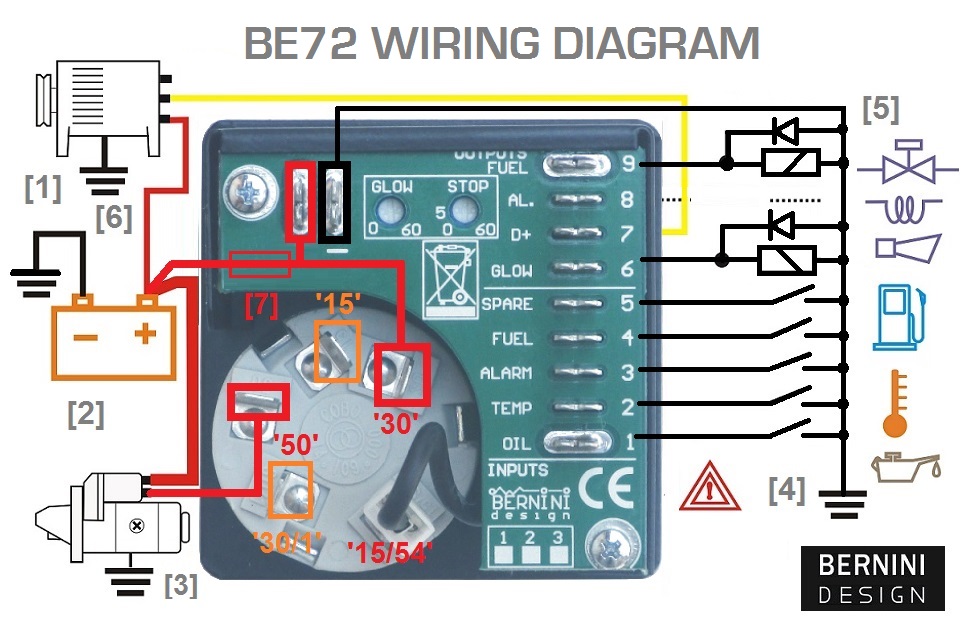 BE72 FEATURES
- 30A dc Key-switch for Manual start
- Short circuit proof solid state outputs
- Din size 72, 40mm depth, shock-proof
- full 3-year warranty, cost effective
- Operating voltage range 5,5 to 36Vdc
-Electrical connection is via a 1/4 inch blade terminal.
Relays and solenoids connected to the Be72 must be suppressed using flywheel diodes or suppression devices as indicated in the wiring diagram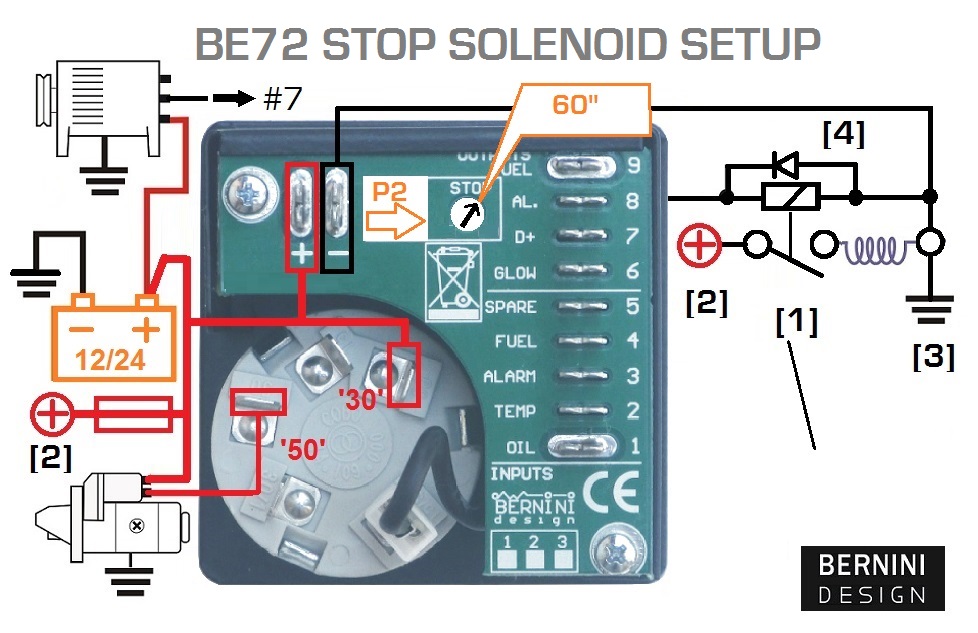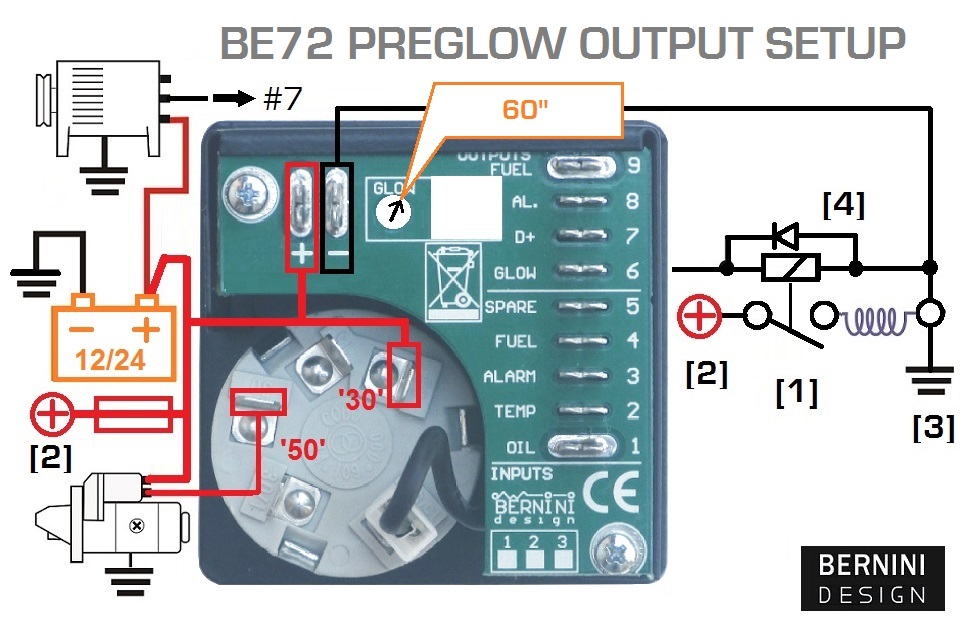 ENGINE PROTECTION MODULE BE72 MANUAL MODE INSTRUCTION:
A) - Turn the [KEY-switch] clockwise to [PREHEAT] position until all LEDs illuminate.
B) - Wait until the only [OIL PRESSURE] and [CHARGER FAILURE] LEDs remain illuminated. If the [PREHEAT] timer is set, the yellow LED [PREHEAT] will illuminate according to the setting of the potentiometer (adjustable on the back from 10 up to 60 seconds).
C) - As soon as the green [ENGINE RUNNING] LED starts blinking, turn the key switch clockwise up to the spring-loaded momentary position. Hold this position until the engine starts. The [ENGINE RUNNING] LED will blink for a period of about 15 seconds. If the engine does not start within this period, the [STARTING FAILURE ALARM] will take place.
D) - To stop the engine, turn the key switch fully counter clockwise (Off position).
In order to stop the engine, we recommend that you use a FUEL SOLENOID energized to run connected to the output #9 via a pilot (driver) relay. If you use a STOP SOLENOID, energized to stop, turn the potentiometer on the back fully clockwise and connect the STOP SOLENOID to output #8 via a pilot (driver) relay as indicated in the wiring diagram. The BE72 will provide a 60-second stop cycle for output #8. When you use the output #8 to drive a STOP SOLENOID, the ALARM function output will not be longer available.
BERNINI DESIGN ENGINE PROTECTION MODULE BE72
Bernini Design Srl, Zona Industriale, 46035 Ostiglia Italy VAT: IT01453040204,  REA: MN160185
email support@bernini-design.com   Tel 0039 335 7077148   24/7/365 support 0040 721241361
https://bernini-design.it