Be72 Diesel Engine Protection Module
IT PROTECTS DIESEL ENGINE DRIVEN COMPRESSORS, PUMPS, GENERATORS & HEAVY EQUIPMENT
BE72 KEY FEATURES

> 30A dc Key-switch for manual start
> Short circuit proof solid state outputs
> Din size 72, 40mm depth, shock-proof
> Full 3-year warranty, cost effective
> -30°C up to +70°C operating temperature
> 5,5 to 36Vdc operating voltage range
BE72 PRICES FOR EU COMPANIES - FREE SHIPPING (Please send  your VAT and Phone number via e-mail)
BE72 PRICES FOR NON-EU CLIENTS  - FREE SHIPPING (Please send  your Phone number via e-mail)
ONE SAMPLE

 119.00€/each
EU companies, VAT is required

TWO PIECES

 99.00€/each
EU companies, VAT is required

FOUR PIECES

 64.00€/each
EU companies, VAT is required

WE PROVIDE SPECIAL OFFER FOR 10, 20 AND 50 PIECES BULK ORDER
ONE SAMPLE

145.18€/each
EU Private Person

TWO PIECES

120.78€/each
EU Private Person

FOUR PIECES

78.08€/each
EU Private Person

3 REASONS TO PURCHASE FROM BERNINI DESIGN
1
 WE DO NOT SELL PRODUCTS: WE SELL SOLUTIONS!

Each product has more value than you expect. The Be72 is designed to simplify the user experience. Each Bernini Design product is designed in a way that you can wire the modules in a few minutes. 
2
 WE PROVIDE THE MOST VALUABLE THING: TRUST 

Once we design a products it remains on the market for at least 25 years. We still manufacture controllers launched in 1984. We have as much as 500,000 controllers running worldwide 24-7-365.
3
 24-7-365 ACTIVE SUPPORT +39 335 70 77148

We support you installing the product thanks to our experience about thousands of applications worldwide. We have a giant data base of troubleshooting examples. We solve your problems in 5 minutes.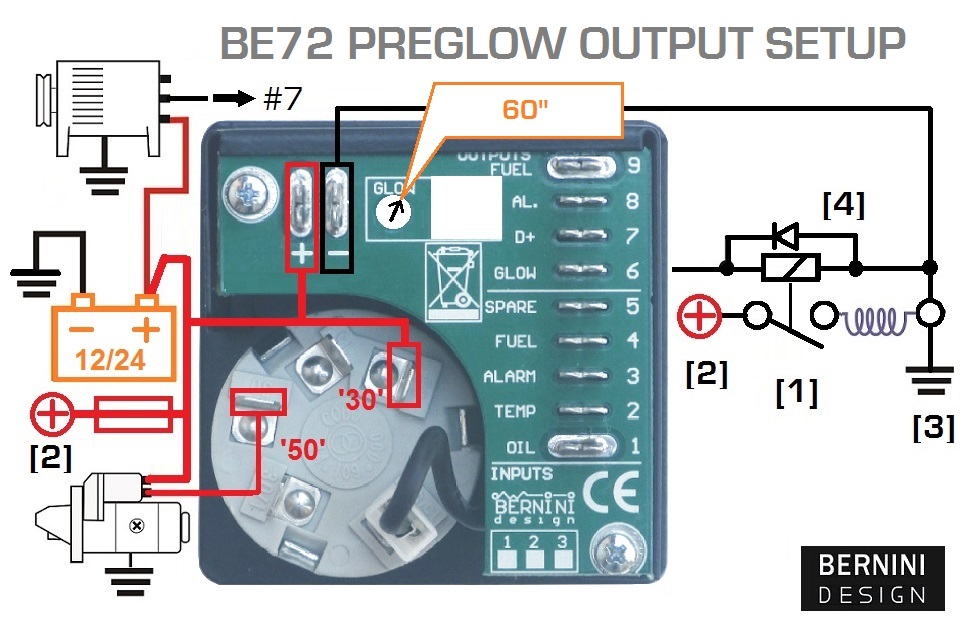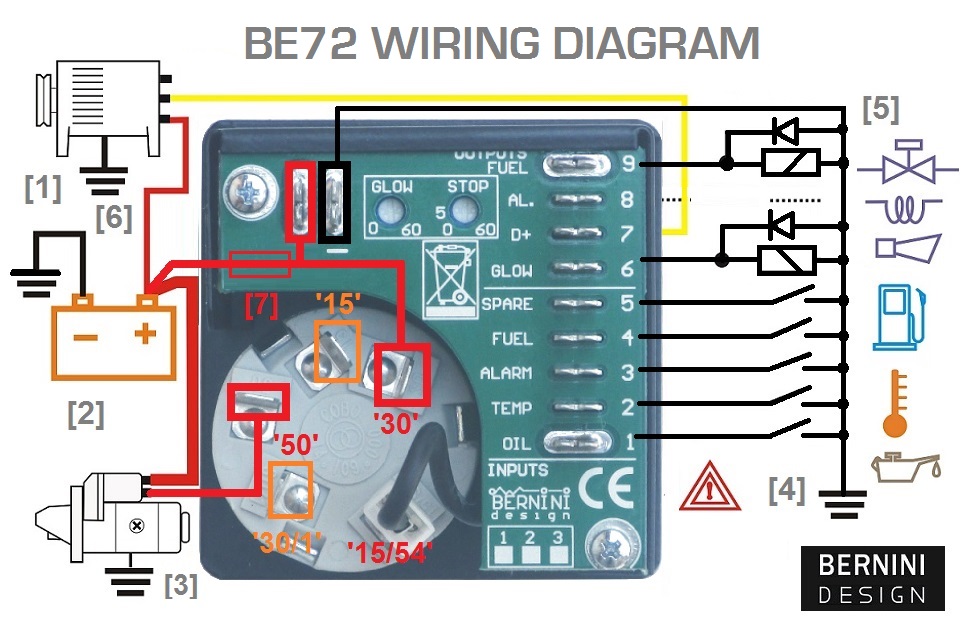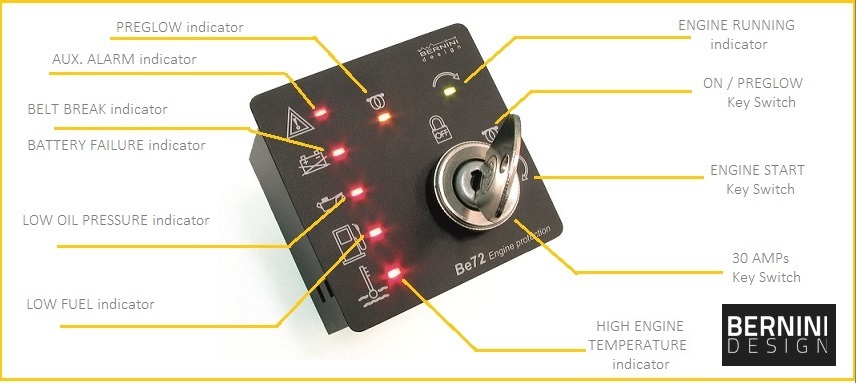 BE72 ENGINE PROTECTION MODULE DESCRIPTION
The Be72 provides Manual start for engine-driven applications. Automatic fault protections include: Engine low oil pressure, High Temperature, Emergency and Belt break. The Be72 provides the following outputs: Start, Stop, Preheat, Alarm and Fuel solenoid. Be72 features a power switch (30A current) to energize the starter. All functions are indicated by means of 7 LED  indicators. 
ENGINE PROTECTION MODULE BE72 MANUAL MODE INSTRUCTION:
A) - Turn the [KEY-switch] clockwise to [PREHEAT] position until all LEDs illuminate.
B) - Wait until the only [OIL PRESSURE] and [CHARGER FAILURE] LEDs remain illuminated. If the [PREHEAT] timer is set, the yellow LED [PREHEAT] will illuminate according to the setting of the potentiometer (adjustable on the back from 10 up to 60 seconds).
C) - As soon as the green [ENGINE RUNNING] LED starts blinking, turn the key switch clockwise up to the spring-loaded momentary position. Hold this position until the engine starts. The [ENGINE RUNNING] LED will blink for a period of about 15 seconds. If the engine does not start within this period, the [STARTING FAILURE ALARM] will take place.
D) - To stop the engine, turn the key switch fully counter clockwise (Off position).
In order to stop the engine, we recommend that you use a FUEL SOLENOID energized to run connected to the output #9 via a pilot (driver) relay. If you use a STOP SOLENOID, energized to stop, turn the potentiometer on the back fully clockwise and connect the STOP SOLENOID to output #8 via a pilot (driver) relay as indicated in the wiring diagram. The BE72 will provide a 60-second stop cycle for output #8. When you use the output #8 to drive a STOP SOLENOID, the ALARM function output will not be longer available.