Be72 DIESEL ENGINE KEY START MODULE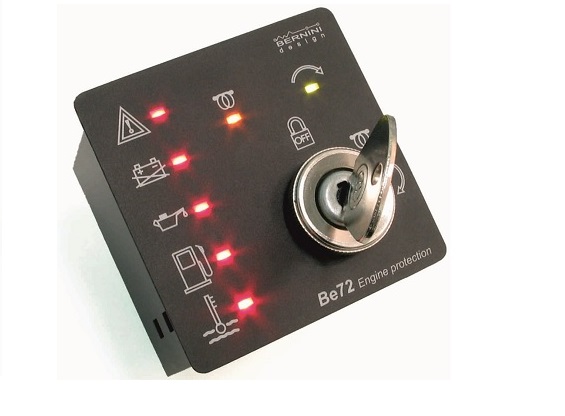 SUITABLE FOR DIESEL ENGINE-DRIVEN EQUIPMENT
The BE72  diesel engine KEY START module includes the essential safeguards to protect a diesel engine. It features 7 LEDs, 3 Static Outputs, and a 30A Key Switch. It monitors an Oil Pressure-switch, Temperature-switch, Fuel Level-switch, Charger Alternator Voltage, and an Emergency-switch. The BE72 provides a MANUAL operation via a 30A Key- switch. Adjustable settings include pre glow timing and stop solenoid timing. The fully coated controller is fitted on a rugged rust-proof metallic enclosure with a standard DIN72 cut-out.
BE72 KEY FEATURES

> 30A dc Key-switch for manual start
> Short-circuit-proof solid-state outputs
> Din size 72, 40mm depth, shock-proof
> Full 3-year warranty, cost-effective
> -30°C up to +70°C operating temperature
> 5,5 to 36Vdc operating voltage range
---
---
The Be72 provides a Manual start for engine-driven applications. Automatic fault protections include Engine low oil pressure, High Temperature, Emergency, and Belt break. The Be72 provides the following outputs: Start, Stop, Preheat, Alarm, and Fuel solenoid. Be72 features a power switch (30A current) to energize the starter. All functions are indicated by means of 7 LED  indicators.
---
---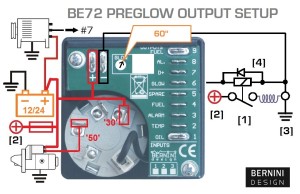 PURCHASE
ONE SAMPLE

119.00€/each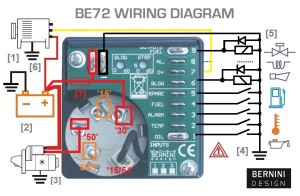 ---
PURCHASE TWO PIECES

99.00€/each
YOU CAN PAY VIA BANK TT BY ASKING FOR A PROFORMA INVOICE TO
---
PURCHASE FOUR PIECES

64.00€/each
---
BE72 KEY START OVERVIEW
BE72 KEY START INSTRUCTION
A) - Turn the [KEY-switch] clockwise to [PREHEAT] position until all LEDs illuminate.
B) - Wait until the only [OIL PRESSURE] and [CHARGER FAILURE] LEDs remain illuminated. If the [PREHEAT] timer is set, the yellow LED [PREHEAT] will illuminate according to the setting of the potentiometer (adjustable on the back from 10 up to 60 seconds).
C) - As soon as the green [ENGINE RUNNING] LED starts blinking, turn the key switch clockwise up to the spring-loaded momentary position. Hold this position until the engine starts. The [ENGINE RUNNING] LED will blink for a period of about 15 seconds. If the engine does not start within this period, the [STARTING FAILURE ALARM] will take place.
D) - To stop the engine, turn the key switch fully counterclockwise (Off position).
In order to stop the engine, we recommend that you use a FUEL SOLENOID energized to run connected to output #9 via a pilot (driver) relay. If you use a STOP SOLENOID, energized to stop, turn the potentiometer on the back fully clockwise and connect the STOP SOLENOID to output #8 via a pilot (driver) relay as indicated in the wiring diagram. The BE72 will provide a 60-second stop cycle for output #8. When you use output #8 to drive a STOP SOLENOID, the ALARM function output will no be longer available.
Zona Industriale, 46035 Ostiglia Italy

24/7/365 support 0040 721241361